Business & Career Opportunities in the Metaverse – Part 2
Tuesday, 12th April 2022 – 2:00 PM
Event details
Starts at: Tuesday, 12th April 2022 – 2:00 PM
Ends at: Tuesday, 12th April 2022 – 3:00 PM
Location: Online event
Department: MK AI Advancement
About this event
What will be covered in Part 2?
Following up on the first part of this series, let's dive a little deeper and look at the opportunities in the metaverse for different actors. The Future of Work is pluralistic and dynamic, and you can already begin accumulating the skills and knowledge necessary to thrive in it. Whether you're interested in entrepreneurship, investment, coding, building communities or contributing through your current specialized skillset, there is a place for you. We will discuss what these opportunities could look like, and share resources for you to learn how to capture them.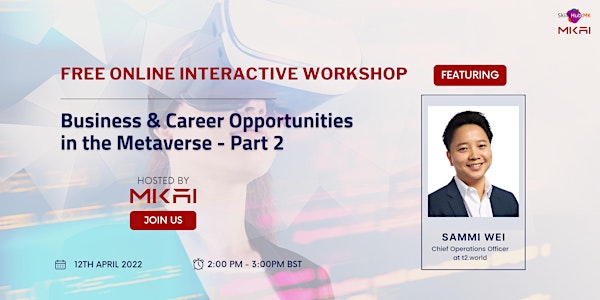 Definitions and common myths/mistakes about the metaverse
Case studies of different components of the metaverse
Future of Work and the roles within it
Mindset and skill set that will prepare you as a contributor
Resources on how to find business and career opportunities
Class "Play.Crypto", by Alex Groves: The decentralized layer for the metaverse is powered by blockchain technology and cryptocurrency. Understanding and using crypto will be one of the fundamental skills you need to master if you want to have an impact over the next decade.
In other words, completing this gamified course will give you a huge advantage – in knowledge, network and modes of thinking. Upgrade the software in your brain to the latest web 3.0 updates with play.crypto.
Class "Metaverse Job Search", by Sammi Wei: Following the two-part series Future of Work in the Metaverse: Business and Career Opportunities, this class breaks down actionable steps in equipping yourself with the assets to contribute in the metaverse professionally. Complete small quests to shape up your CV, connect with a relevant information network, get into active learning habits, and more.
Register for this event